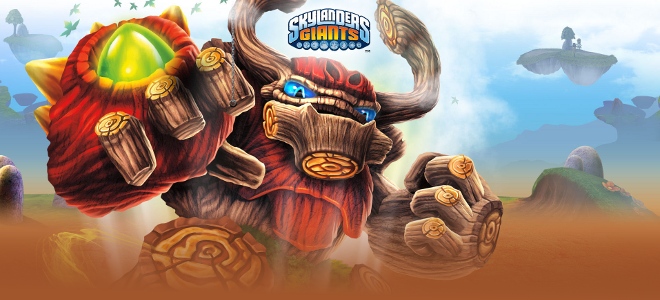 About Skylanders: Giants
Skylanders: Giants is the direct sequel to the game Skylanders: Spyro's Adventure. Thousands of years ago, the Skylands were filled with battles between the Giants, before they were banished to Earth. A new threat hangs over the Skylands, and this game reunifies the Skylanders and the Giants in an epic battle to take over this threat. This is the ultimate battle to save the Skylands.
Learn more about the back story:
Features
This game builds upon the breakthrough fundamentals of the first game—merging the physical and virtual realms with an innovative line of cross-platform toy figures that have "brains," which players everywhere can magically bring to life in the world of Skylands. This next installment of the franchise features a variety of new characters, new challenges, a thrilling new story-driven adventure, and advanced integration across console, handheld, mobile and online.
Learn more about the new features:
Power of Portal
The Power of Portal is one of the key elements inthe Skylanders series. The Portal of Power is a pedestal used to transport the Skylanders, who are frozen as toys in our world, into the game of Skylanders: Spyro's Adventure and Skylanders: Giants, connecting to the player's console of choice and bringing the toys to life in the game.

To bring the toys into the game of Skylanders, you'll need the Portal of Power. You'll simply place the toy in the center of the Portal and instantly the character will appear in-game. This circular device glows different colors according to the elements of the characters and has the ability to recognize two characters placed on it at once to allow for multiplayer co-op or PvP battles.

The Portal of Power is included with the game and each one is compatible with some consoles.
Characters
There is a huge variety of characters that can be controlled in this game. 24 characters from Skylanders: Spyro's Adventure will return as well as the addition of 8 new giants. The starter console pack includes three characters - Tree Rex, Jet-Vac, and Cynder.
Ad blocker interference detected!
Wikia is a free-to-use site that makes money from advertising. We have a modified experience for viewers using ad blockers

Wikia is not accessible if you've made further modifications. Remove the custom ad blocker rule(s) and the page will load as expected.